Royal Marine's Liverpool FC Tattoo reads 'You'll never Walk' after amputation
06/02/2015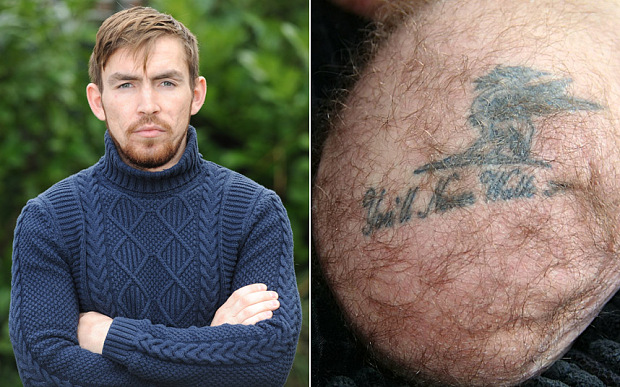 Andy Grant defies odds to become runner after waking up from operation to remove leg below knee and finding key word missing from 'You'll Never Walk Alone' tattoo.
A Royal Marine who had his leg blown off, leaving his Liverpool FC tattoo missing a word and reading You'll Never Walk, has defied the odds to become a runner and climber.
Andy Grant, 26, had his limb amputated after he stood on an improvised explosive device (IED) while on routine foot patrol in Afghanistan.
He had an operation to remove the leg below the knee and woke up to find the word Alone missing from his You'll Never Walk Alone tattoo.
However, the father of three used the ironic inking as inspiration and went through vigorous rehabilitation sessions for 18 months.
He has not only learnt to walk, but is now closing in on a running world record.
Mr Grant, who lives in Liverpool and was serving with 45 Commando at the time of the blast, said he has always seen the funny side.
He said: "I am a huge Liverpool fan so had the Liver bird and the words to the song You'll Never Walk Alone on my leg.
"The tattoo that I have been left with has always been a bit of a joke. I use it in my motivational speeches.
"It is ironic that it says I will never walk as I have gone on to run 10k in 40 mins. At the moment I am just two minutes off a record record for the 10k for a single leg amputee and I have that in my sights.
"It is bizarre and I just laugh about it. But it adds to my story I guess. The fact is that regardless of what the words says, the operation allowed me to walk and run and do so much else. You have got to see the funny side of it.
"I also won a couple of gold medals at the Invictus Games and got to abseil the shard so I don't think I have done too badly.
"I guess I did use the tattoo I was left with as an extra inspiration. But I was always going to prove it wrong."
"You'll never walk alone" has been Liverpool FC's moto since 1963
The impact of the IED blast in Sangin six years ago severed Mr Grant's femoral artery and took out a "big chunk" of his thigh. He broke both the fibula and tibia in his right leg and lost 6cm of bone.
But two years after the blast, the 26-year-old decided to have his right leg amputated after watching comrades with similar injuries enjoying activities with their prosthetic legs.
He can still recall the conversation he had with surgeon Anthony Lambert when he woke up.
Mr Lambert told him: "Well, we had to raise a flap of skin on your leg to cover the bone ends... and it's meant that your Liverpool Football Club tattoos are a bit messed up. The Liver bird is a bit all over the place, and your tattoo now says 'you'll never walk'."
The date of his blast, February 3, and the date of his amputation, November 25, are both anniversaries that Andy marks.
Grant uses the tattoo he was left with as an extra inspiration (SWNS)
He said: "The anniversary of the blast is a bitter sweet day, but one that I like to get together with friends and family.
"I am very proud of my achievements and like to turn my story around to try and inspire other people about what they can achieve in the face of adversity.
"I am all about looking forward. I can not undo what happened and I have no regrets. I am all about making the best of a bad situation."
Such is his positive outlook on life now, he says he feels like the bomb blast was "worthwhile".
Mr Grant, from Liverpool, was serving with 45 Commando at the time of the blast (ANDY GRANT/SWNS)
He said: "It's been a rollercoaster ride of emotions, and it's been bittersweet for me. On that day in 2009 I basically ended my career in the corps. I lost a bit of myself on that day and, as a 20-year-old I changed.
"It's been hard when you look at it like that, but on the flip side I've had some amazing experiences that almost make it seem like it was worthwhile.
"It is weird to hear myself say that, but it just shows the level of recovery. It's opened so many doors.
Grant has defied the odds to become a runner and climber. (ANDY GRANT)
"My job as an inspirational speaker takes me around the world; I've started amazing relationships with people; I have three children and an amazing family; I'm looking to row across the Atlantic; and I'm hoping to be picked for the Paralympics next year.
"My life has moved on in an amazing way and it's all down to what happened. It's given me more of a life than I probably would have had."
The Liverpool Football Club fan left the Royal Marines in May, 2012 and now works as a motivational speaker.
Back to all