Joe Townsend wins four golds in all four of his events at the Invictus Games
15/09/2014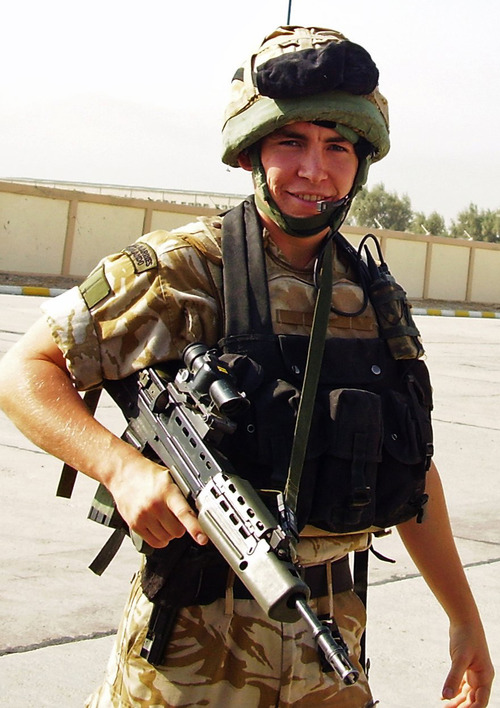 Plymouth Royal Marine Joe Townsend has won gold medals in all four of his events at the Invictus Games.
Plymouth Herold
The British Armed Forces team scooped 29 medals in track and field at the games for sick and injured service personnel.
The team's golden boy of the day was former Royal Marine Joe Townsend, 26, based in Plymouth Naval Base with Hasler Company, who scooped gold in all four of his races on the track; 100m, 200m, 400m and 1500m in the Men's Wheel IT4 category.
The Royal Marine who lost both of his legs after stepping on an anti-tank mine in Afghanistan in 2008, sailed through his first race beating Jack Pastora of the Netherlands by 1.5 seconds, extending that victory against the same competitor to five seconds in the 200m.
He made the 1500m look easy finishing nearly 90 seconds ahead of his nearest rival but left a nail biting moment to his last race; the 400m; when he just scraped through to take his fourth gold 0.1 seconds ahead of Netherland's Sebastiaan Van Nieuwenhuizen.
Joe said: "I knew that if I did well in the 100m I'd do well throughout. After the first event this morning I was pretty confident. I saw the last guy on the finishing straight of the 1500m and had in mind if I don't lap him I've not done my job. It's great to be in the team; I'm competing for my country in the sporting field now, not the battlefield."
Joe still has another event to go; he'll compete in the cycling on Saturday.
Marine Andy Grant, 22, achieved two golds in 400m and 1500m Men's Ambulent IT1. He made the decision to have his leg amputated after suffering 27 injuries from the force of two IEDs.
Mickaela Richards, 26, was the top scoring woman of the day with two golds in the 100m and 400m Women's Open IT6. Mickaela suffered a hip, pelvis and shoulder dislocation while serving with the Royal Navy.
Dave Henson, British Armed Forces Team Captain, who won gold in the 200m Men's Ambulent IT2 eight seconds ahead of second place, said: "It was so worth it. As I crossed the finish line I thought about my friend Richard who was killed in Afghanistan at Christmas; I'd have liked him to have seen that. To be honest, if I hadn't have seized this opportunity he'd have slapped me round the face!
"There's been some phenomenal displays of sporting prowess today. Some of the individual achievements were great. Now it's time to get ready for the next stage."
Of the 33 gold medals on offer, the British Armed Forces team took 48 per cent. With silver and bronze medals added, that is more than a fifth of the available medals so far.
Other medallists included Kushal Limbu, Sam Stocks, Luke Wigman, Dave Henson, Alex Tate, Emma Burns, Maurillia Simpson, Susan Cook, Bruce Ekman, Tom Sharpe, Matt Barlow, JJ Chalmers.
http://www.plymouthherald.co.uk/
Back to all