Armed Forces Day Newsletter
28/06/2014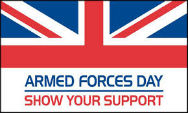 The Armed Forces Day Newsletter featured Hamish de Bretton-Gordon, Rory Underwood, Mick Dawson and Paul Dixon.
http://us4.campaign-archive2.com/?u=2a35037d493fedce5542dc839&id=d7df617fc8&e=
We can't all be rock stars or actors, but we can still achieve the highest accolades and be lauded for our work, drive, leadership and commitment.  Some people have to go through the toughest of times to get there with life changing injuries, for others it's a pioneering swim in freezing waters, a row across the Atlantic, running onto the pitch at Twickenham or witnessing man-made atrocities.  Whatever their story, they are mind-blowingly good at making you sit up and take notice.  Make a difference to your work place, conference or dinner; fly the flag and book one of our inspirational speakers.  

Back to all