Bear Grylls
19/09/2014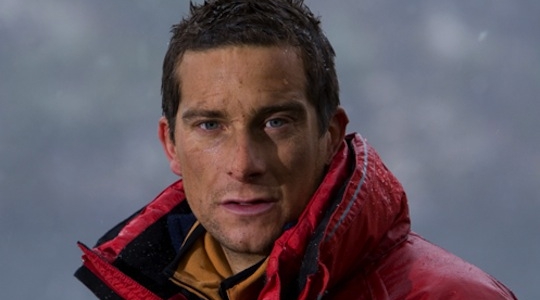 Bear Grylls talks to Piers Morgan about proposing in the nude, sending a naked selfie to Dermot O'Leary and his experiences of becoming one of the youngest people to climb Mount Everest at the age of 23.
Bear Grylls talks to Piers Morgan about proposing in the nude, sending a naked selfie to Dermot O'Leary and his experiences of becoming one of the youngest people to climb Mount Everest at the age of 23.
Bear revealed his love of stripping off a number of times during the interview. He told Piers: "If there's a substantial body of water around and nobody's looking, I'm often quite tempted to strip off and dive in."
Piers retorted: "I've got three words for you. Nude. Piano. Playing."
Bear said: "Yes that's been known to do as well after you know a late night with friends on the piano. We've all been known to be naked, yeah."
Bear also told the story of how he ended up sending Dermot O'Leary a more graphic selfie than planned!
He also revealed how he proposed to his now wife Shara while naked.
He joked: "Well I was swimming with no clothes on. I pulled out the ring from my butt cheeks. [Laughing] I remember kneeling on the beach like this.
"She was standing there going 'what are you doing?' She was in a towel and a massive Atlantic roller came and I went: 'will you...' - and it went - took me up the beach. I had all the seaweed and I was spinning around, so I tried it again and, and in this sort of moment of heavy sedation she said yes."
Bear said that his late father would be proud that he was still married to his wife and of the children they had together.
During the interview, Bear became very emotional having been shown a VT that featured footage of him with his late father Conservative Party politician Sir Michael Grylls. He revealed that his father's death was a shock to him.
Bear replied: "Gosh it's amazing watching that [the VT]. That was lovely. I was with Shara [his wife], we lived on a boat on the Thames. We still do and a policeman came, knocked at the door and..."
He faltered as he took a deep breath and tried to compose himself. "Oh dear...gosh" and appeared to hold back tears.
"You kind of definitely bottle stuff and put a lid on it and actually I hadn't seen a lot of that footage.
He stopped the interview and said "Let's just grab a minute. Sorry."
Piers said: "Everyone will understand, take as long as you like."
Bear got up out of his chair and stood with his back to the audience while he sipped from a glass of water and composed himself.
Happier, he said: "Don't worry, we're going to come back hitting after this. It's going to be good.
"Yes this policeman saying this is what's happened, and just a shock because he'd [Bear's father] had a pacemaker fitted a few days before. I remember going to the hospital and I'd never seen my dad scared and I just remember seeing his lower lip wobbling. I said I'll come into the operation with you, and he said the doctor won't let you and it's the only time I've actually showed my sort of SAS card and pulled it and said 'I need to be in there during that operation'.
"You know, it all went good. We came out and he was so grateful I was there and I thought 'great' and I went off home. Two days later you know he was at home recovering and he was in bed and bam, you know. It's a while ago now, it's crazy but it's still very raw."
He continued "Yes it's just very raw. I think it's raw. The one [image] that killed me, is seeing him with me you know in the little boat and stuff because I do that with my three boys and it's funny because they look so like him and so like I did at that age, and it's exactly what I do with them and I just know he would be so, he'd love that with them."
"He just really encouraged me to love something and when he saw that I loved to climb, to do that with him, he really encouraged that. That's why that Everest dream became such a dream of ours together. He got me a poster of it and I'd go one day I'm going to climb this mountain. It was a real shared dream."
Bear spoke at length about the Everest climb.
He said: "It was a difficult decision for me. It was a difficult decision I think especially for my family because I'd broken my back in this freefall accident like a year earlier. They lived through all the stress of me being in this military rehab centre at Headley Court, having to leave the army, being unable to move, being strapped up in braces, doctors not knowing if I was going to be able to walk again properly and you know, and they had been through such kind of trauma really alongside me, of which I kind of felt guilty about in a way.
"But for me I was desperate for that identity again that this was what I could do and I will walk again, I will climb again and I need that focus. That Everest poster that had been on my bed from such a young age became the whole focus of that recovery."
Speaking of his time up the mountain, Bear said: "The truth is I reached that summit by the skin of my teeth and got away with my life where others didn't but came away very, actually humbled and in some ways less confident than I went.
"I remember speaking to my dad when we got off at the very end of it. He's gone every faltering step of the way together with me on that mountain and I knew he'd would of loved, well he did share it with me up there. One of my greatest prouds of my life was he [his father] was alive to see me do that, you know and we did it together."
Tune into Piers Morgan's Life Stories: Bear Grylls on STV at 9pm on Friday for more from Bear on the allegations of him staging parts of his survival shows.
Back to all