Homeless Veterans appeal: Entering civilian life can be like going into the jungle for soldiers, says ex-colonel
02/02/2015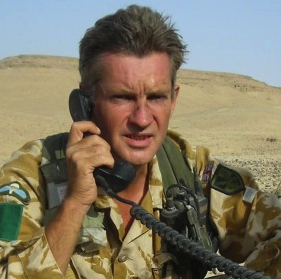 Leaving the military and returning to civilian life can be like "going out into a jungle" without a guide, one of the UK's former top commanders in Afghanistan has said.
Colonel Stuart Tootal, who in 2008 resigned from the Army in protest at the Government's poor treatment of his wounded troops, told The Independent that no "military pamphlet" could adequately prepare departing soldiers for what awaited them when they returned to 'civvy street'.
As commander of the 3rd Battalion the Parachute Regiment, Tootal led the first UK unit into Helmand province in 2006, where his troops engaged in intense levels of fighting not experienced by the British Army since the Korean War. For his efforts, he was awarded the Distinguished Service Order.
Since his resignation, Tootal has reinvented himself as an executive at Barclays, where he is now global head of security. Since 2011 the bank has worked closely with ABF The Soldiers' Charity - one of two being supported by The Independent's Homeless Veterans appeal - donating more than £1 million to provide educational and vocational training for wounded, injured and long-term sick soldiers.
Some British veterans are working in jobs that are beneath them, Tootal said, giving the example of "a former Flight Sergeant with great leadership skills who is sweeping the floor of a fast-food restaurant". He recently worked with "a proud, very capable Paratrooper" who is now in a very low-paid job.
"The reason that they face a challenge when they leave is that they're used to a very structured, very regimented environment, which is absolutely right and proper when they are serving in the military. But when they come out, it's a little akin to going out into a jungle," he continued.
"In the military you have a jungle warfare instructor and a section commander taking you into the jungle - but you don't have such a refined support structure when you leave, so it's a very new and very daunting process."
Sitting in a glass-walled room on the top floor of the Barclays building in London's Canary Wharf, where the bank's executives enjoy panoramic views of the City, the 49-year-old gets a distant look in his eyes when he remembers his time commanding 3 Para. "I miss the wind in my hair, being on the back of the tailgate of a helicopter, flying into an operation," he said. "I miss parachuting. But you can't keep on doing those things forever." 
Despite the nature of his departure from the Army, he insists that he doesn't "regret anything" about his service. "Nobody regrets their military service, because they're the best days of your life. But everyone has to stop being a soldier, airman or sailor at some stage, and walk into new fields. The job I have here is hugely rewarding and carries some great motivations with it, but nothing's ever going to be quite the same as being with 3 Para."
As well as his role in keeping the bank's employees safe, Tootal is also head of the Barclays Armed Forces Transition, Employment and Resettlement programme (AFTER). Since it was launched in 2010, it has helped more than 2,800 ex-servicemen and women make the switch from military to civilian life.
Veterans involved in the scheme, which is entirely funded by the bank, can also take part in CV and interview workshops, learning how to convert their military expertise into skills more relevant to commercial employers. Barclays has also given work experience to 250 wounded or injured military personnel, 71 of whom have landed permanent paid positions since the start of 2013.
Tootal said his main aim was to help veterans land "the right job" rather than one that was beneath them. "I learnt a huge amount when I left," he said. "It was challenging - there was no handbook. I went through the leaving process, which does prepare you to a point, but it's a big old world out there. There's no military pamphlet - you've got to find the route through the jungle yourself."
He said it was "shocking" that some veterans are homeless or have accommodation problems. "To think that anyone that I might have served and marched with is in those circumstances…it's really important we do something about it.
"Any person who served in the military would be very disheartened to hear that there are homeless soldiers, but it is a fact, and it's something that we need to do something about. Making sure we look after our veterans property is a collective effort."
Back to all