WWII pilot still entertaining Audiences as Military Speaker aged 95
05/09/2016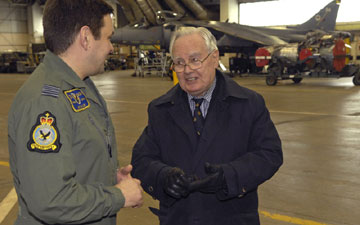 An 95-year-old veteran Mosquito pilot who completed 50 bombing missions over Germany during World War Two is still entertaining a wide range of audiences with his Anecdotes from his time in the RAF.
Colin Bell (http://www.militaryspeakers.co.uk/speakers/colin-bell-dfc/) joined the RAF towards the end of 1940 and undertook his flying training in the USA prior to its entry into the war. Having been commissioned into the RAF, he was retained at Napier Field, Dothan, Alabama, by the then American Army Air Corps as an advanced single-engine flying instructor responsible for training American and British cadets.



On his return to the UK in 1943, he converted to twin-engine Mosquito Bombers and joined 608 Squadron (Pathfinder Group). During his tour of operations, he carried out a total pf 50 bombing raids all over Germany - 13 of them over Berlin.
He was subsequently transferred to ferry duties bringing back newly- built Mosquitos from Canada to the UK with stop-offs at Goose Bay. He ended his RAF service in 1946 flying out of Blackbushe (near Camberley) carrying diplomatic mail to embassies situated in various parts of Europe and Africa.
To Book Colin Bell email info@militaryspeakers.co.uk
Back to all