General Sir Mike Jackson: 'It's vital we never say to an old soldier... we cannot help you'
13/05/2014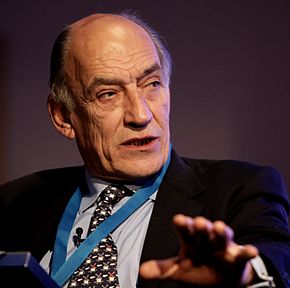 The Chris Blackhurst Interview: General Sir Mike Jackson, the outspoken, granite-voiced, former professional head of the British Army, has answered a new call of duty to his ex-comrades as president of the ABF, The Soldiers' Charity
When I meet General Sir Mike Jackson, the first thing I do is to apologise.
We were due to be in a smart room, but there's been a double booking so we're in a room next door that looks as though it could do with a clean.
"I've been in worse places," he growls. His craggy features break into a grin.
Indeed he has, in an army career lasting nearly  45 years. It included three tours of Northern Ireland.
On his first, he was an officer with the Parachute Regiment in the operations HQ on Bloody Sunday in 1972. On his second tour, in 1979, he arrived upon the scene of carnage at the Warrenpoint massacre of the Paras, soon after the second bomb  had exploded.
He was a commander of Nato's rapid-reaction corps in Kosovo. It was Jackson who famously disobeyed an American order to block the runways at Pristina and isolate the Russians, saying to the US General Wesley Clark, his immediate superior: "I'm not going to start the Third World War for you."
For three years, prior to his retirement in 2006, Jackson was Chief of the General Staff, the professional head of the British Army. His period in charge covered the invasion of Iraq.
"When allegations of abuse of Iraqi prisoners were made against British soldiers, he immediately ordered an inquiry which resulted in convictions - something that did not make him popular with some of those in and around the army.
I look at him, even now still oozing authority and leadership, and wish "General Sir Mike" had been in the Fulham changing room this season. He would have sorted them out, made them chase down every ball, go in hard on every tackle…
Enough. We're meeting because he's the new president of the ABF, shorthand for the Army Benevolent Fund, or as it also bills itself, The Soldiers' Charity.
"I was asked to take on a non-executive role, and I was only too happy to do so. It changed its name to ABF three years ago."
Jackson speaks slowly and firmly, in a deep voice that is more granite than gravel. It's like his handshake, so unyielding that I have to remind myself he's 70 years old.
"It was felt by the trustees that we had to present an understandable title to the public, so we are The  Soldiers' Charity."
The ABF "helps serving and retired soldiers and their families where there is need".
"That can take many forms," Jackson explains, "from modifying a house or a car to cope with disability and old age, to providing constant care, to helping an ex-soldier deal with a handicapped child."
The rebranding is saying this is the definitive soldiers' charity. Could that be because there are now others, including Help for Heroes?
"We're vividly different. Help for Heroes tapped into the public mood of seeking greater understanding and support for serving personnel on current operations, in Iraq and Afghanistan. They tapped into a strand in public sentiment, and they've done it successfully. But they're quite focused on who they help and the timescale they cover."
His charity feels there is "a duty owed to the old men and some old women who are Second World War veterans, and those who served in the army in subsequent conflicts since. It's quite a roll-call: Korea, Malaysia, Kenya, Aden, Northern Ireland, Falklands…"
So is there competition between The Soldiers' Charity and Help for Heroes?
"It's a good question. Certainly, the public's willingness to contribute to soldiers' charities can never be under-estimated. The cake is only so big and how it gets sliced up is a matter for those generous enough to donate.
"I prefer to regard the various charities as complementary to each other, not competitive. But we are fishing in the same pool," he says.
Jackson feels there are too many charities, full stop.
"Somebody very often is nearing or at retirement. They're looking for something to get their teeth into, they want to give of their time because they want to help, and they set up a charity. And that's terrific. That desire to help, to be involved, is fantastic. The downside is that it can lead to overlap."
But what about the Ministry of Defence? Shouldn't it do more to support veterans?
"There are those who become in need because of military service on behalf of the nation, and it's only right that the nation should fill that need. However, it is not the case, and never has been, that the charitable need and government provision match, There is a gap between them, always has been - after Trafalgar, Nelson's sailors were to be found begging on the streets of London; after Waterloo, Wellington's soldiers were the same."
Has the gap got worse?
"People are living longer, so in some ways it has, but also it's improved, particularly in regard to the help for casualties from current operations. There's always a balance to be struck. Fortunately, the public respect for the armed forces is very high - in any ranking of respect in opinion polls, the armed forces are way  up there."
But the armed forces moan about how that respect isn't replicated in Whitehall, that their budgets are constantly being cut.
"It's like asking does a small boy want more sweets? Of course he does."
Jackson understands ministers' predicament.
"The Government has to make an allocation between the different functions of the state. They must look at the merits of the welfare system, NHS, HS2, defence of the realm, and decide who gets what."
He is worried, though, by how far the cuts have gone.
"We have, since the end of the Cold War, reduced our armed forces very significantly. But now we have an adventurist government and president in Russia…"
We should remember, he says, there has only been one year since 1945 - 1968 - when UK soldiers have not been in action somewhere in  the world.
And even if we're not involved in a war for decades, which seems unlikely, "a soldier in his twenties who has just suffered a life-changing wounding may live for another 60 or 70 years. He's going to be on the books as a potential recipient of benevolent funds from The Soldiers' Charity for all that time."
The danger for the charity in reining back our defence capability, and trying to stay out of conflicts, is that the public will lose interest.
"It means the armed forces don't receive the same focus from the public as they do now. Therefore, it may be more difficult to maintain the level of funds coming in - it's something we've to got to work at.
"As a veterans' charity, it's vital we never say to an old soldier, 'we're sorry, but we can't help you.'"
Ideally, he'd prefer it if there was no ex-soldier sleeping rough or in prison, "but some soldiers come from very difficult and tragic backgrounds before joining the army, and the army becomes their family. They get to experience friendship they've never had before, and they find it difficult when they leave - it's like leaving a family".
Some too, will suffer  from post-traumatic stress disorder (PTSD).
"I'm very fortunate, I've seen things I would rather not have seen but I've been able to deal with them as part of natural soldiering. But PTSD is another reason for keeping an eye on a soldier's long-term care. A 20-year-old who undergoes a traumatic experience in Afghanistan won't know he needs help until the symptoms present themselves, usually in about 10 years' time."
The tendency to revisit episodes in conflicts, to investigate them and to sometimes uncover bad behaviour does not help the army's reputation, but he stands by it.
"The army serves this ancient democracy of ours where the rule of law is the bedrock to our way of life. Many men and women have given their lives in defence of that way of life. It's therefore axiomatic that the army should be subject to the same rule of law. Some people don't like soldiering being investigated and there's no doubt it's unpleasant, but it's necessary."
He's got no plans to retire, not as such anyway. He's got this charity role, he's a sought-after public speaker, and he holds various non-executive and advisory posts. Then, "I travel, I read (I'm reading Max Hastings's book about the run-up to the First World War), I play tennis and I swim a bit".
Anything, except golf.
"I don't know how people find the time for golf. It seems to take half-a-day to get round."
If only he'd been at Fulham, even for one game…
Back to all