General Lord Richards of Herstmonceux, says we are not to give up on Afghanistan!
10/03/2014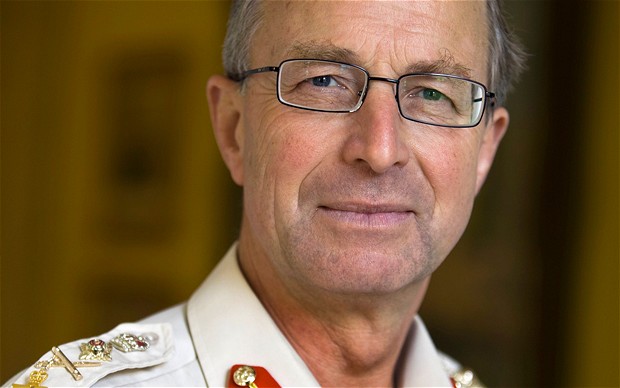 Headlining Military Speaker, General Lord Richards has urged Nato leaders to honour the commitments made to the Afghan people.
The former head of the armed forces has appealed to Britain and other Western powers not to give up on Afghanistan after the final withdrawal of international forces later this year.
General Lord Richards of Herstmonceux warned war-weary Nato leaders that it would be "on their conscience" if they failed to honour the commitments their countries had made to the Afghan people.
In an interview for BBC Radio 4's Desert Island Discs, Gen Richards, who stood down last year as chief of the defence staff (CDS), said it was "very disappointing" that the West was hesitating over its continued support.
He expressed particular concern that the gains made by Afghan women while the international force (Isaf) was in the country could be lost.
"That is one of the risks that, as our nation and others hesitate about sustaining their assistance to Afghanistan, will have to be on the conscience of those who decide not to do what I feel we have committed our country and all the other contributing nations of Isaf (to do)," he said.
"Be it on their conscience. I, as the father of two daughters, feel this particularly strongly. My wife runs, with others, a charity which is dedicated to bringing education to children.
"All that could be put at risk and for what? Because we have tired of it? Okay, I know it's been a long haul, we are changing the strategy, I just ask people not to give up on it altogether."
While Gen Richards, a former commander of Isaf forces, stressed the lot of the average Afghan was "vastly better" as a result of the international presence, he expressed some sympathy with president Hamid Karzai when he complained they had left the country worse off.
"Obviously in a narrow sense I was disappointed to hear that. I know he sometimes does come out with some things I'd rather he didn't say but actually he has done a hell of a lot for the country," he said.
"And of course, I agree with him in a way. We haven't done everything we set out to do and we look as though we we might not follow up in the way that we promised and that is very disappointing."
Gen Richards acknowledged that during his time as CDS, as Prime Minister David Cameron's principal military adviser, his relations with Downing Street had not always been easy.
"There were occasions when I had to give advice to some people whom I have to say I respect very much and like but I knew they did not want," he said.
"You go into No 10 Downing Street or wherever, everyone is very kind and hospitable, but suddenly something happens, you're there, and it's business. I did have to dig deep and give some difficult advice."
He confirmed that he had advised Mr Cameron not to intervene on the side of the Syrian rebels following the uprising against president Bashar Assad.
"What I said, and what I keep saying to people, is if you're going to intervene, do it properly," he said.
"If you are only to do it half-heartedly or with insufficient resources - for example some help to the Syrian rebels, but not the help that will make a decisive difference - you will actually aggravate things and you will certainly aggravate the humanitarian situation.
"I actually have huge sympathy for the Syrian opposition groups and most of all for the people of Syria, but actually if you only do a little then it's only going to aggravate their plight. I felt morally there is therefore a case for saying you'd better not do it at all, just get this blooming thing over with."
Labour leader Ed Miliband, on a visit to UK troops in the country yesterday, acknowledged that the job was "not yet done".
"When the British military has left Camp Bastion we in Westminster must also remember a simple thing," he told them. "The military operation may be drawing to an end but the job here is not yet done.
"There is an urgent need for reconciliation between the different parties in Afghanistan and for the presidential elections to pass off peacefully.
"There is a long term challenge to reconstruct and develop Afghanistan which is why we are committed to keep funding work to rebuild this country for years to come."
Back to all