Government plans for Ex-Servicemen and women to provide pupils with 'military-style' training
07/12/2012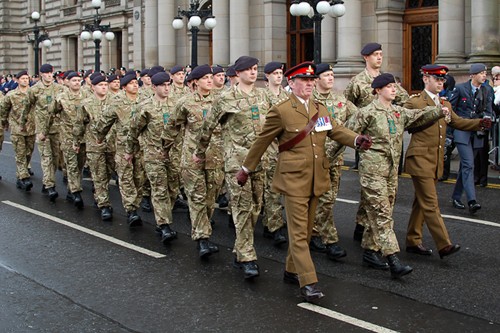 Military Speakers supports the Governments plans for Badly behaved school pupils to be given military-style boot camp training as soldiers are to be drafted into schools.
Ex-servicemen and women will be employed to help instil teamwork, discipline and leadership skills among children expelled form mainstream education. With a number of Military Speakers personnel doing this on a regular basis currently this is a Government initiative that Military Speakers as a company will endorse throughout. 
Four projects - drawing on the expertise of former members of the Armed Forces - will be given taxpayer funding as part of a £1.9 million programme designed to raise standards among difficult pupils. 
Going forward to plan is for"military-style obstacle courses to engage and motivate hard-to-reach pupils and help them understand how to transfer the elements which helped them succeed in the classroom"said a Government spokesman.
The government will look to employ the incredibly successful strategy of one-to-one mentoring to help pupils address behaviour issues, an angle of development that Military Speakers believes to be incredibly valuable. Further to this the government plans for servicemen and women to lead indoor and outdoor team-building exercises and build confidence among primary school children about to make the step into secondary education.
This is the latest in a series of moves designed to strengthen links between the Armed Forces and schools.
Government ministers have already increased the number of school-based cadet forces as well as ensuring £11m is dedicated to train former members of the Army, Navy and RAF as teachers 
There is fear among leading Teaching personnel that the deployment of ex-servicemen in the classroom will lead to schools becoming a recruitment ground the Armed Forces.
But Michael Gove, the Education Secretary, said pupils - particularly those expelled from mainstream school - could benefit from the"values of a military ethos" 
This comes at a particular poignant time as fears grow over the gulf in standards between excluded pupils and their peers.
Last year, only 1.5 per cent of pupils in alternative education achieved at least five good GCSE including English and maths - about 40 times worse than children in mainstream schooling.
Mr Gove said:"Every child can benefit from the values of a military ethos.
"Self-discipline and teamwork are at the heart of what makes our Armed Forces the best in the world - and are exactly what all young people need to succeed. 
"Exclusion from school should never mean exclusion from education.
"These projects are helping pupils in alternative provision reach their full potential and are helping to close the attainment gap."
A major benefactor from Government funding will be Chesire-based Cammando Joes', an organisation that provides trained mentors for schools in deprived parts of Britain. They will received £600,000 funding for their further development.
£700,000 has been awarded to Challenger Troop in Tunbridge Wells, who organise leadership training for"disengaged pupils"between the ages of 8 and 16. 
A company who work particularly closely with Military Speakers, SkillForce were awarded £200,000 to provide a programme of outdoor challenges, focusing on secondary schools and feeder primaries.
Mike Hamilton, a former bomb disposal expert and director of Commando Joes', said:"We teach children the skills we learned in the army. Not everyone wants to be a soldier, but the skills we learn in the military are brilliant and I think anybody can use them in any job."
He added:"The instructors are all ex-military personnel - they are role models and kids look up to and aspire to be like them.
"When we go to a school playground children hang on every word. 
"In some of the deprived areas we work in, young people have not got grassy areas or anywhere to go. When they come to our sessions they get a chance to socialise in a different way, to be part of a team."
Back to all