Pride of Britain Awards: We wanted people to know what these men were going through
27/09/2015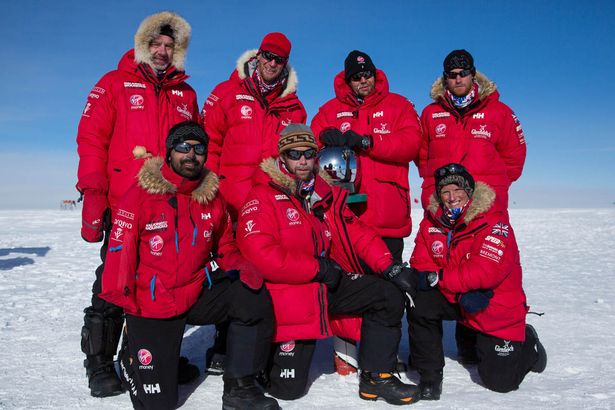 The organisation, founded in 2010, has been honoured at the Pride of Britain Awards for its inspirational work supporting wounded veterans trying to re-enter society after years of service.
Lying in a hospital bed, having lost both legs in a roadside bomb blast in Afghanistan, Sergeant Duncan Slater was facing a battle simply to walk again.
But just over four years later, in December 2013, he was standing proudly at the South Pole, the first double amputee to trek there unsupported.
Alongside him were 11 other former servicemen and women who had suffered life-changing injuries while fighting on the frontline for Britain and her allies.
It was a personal triumph for each member of the team but also a powerfully symbolic moment for every former soldier making the tough transition back into civilian life.
And it exemplified the inspirational work of Walking with the Wounded, the charity set up by former army officers Ed Parker and Simon Daglish after Ed's 26-year-old nephew Captain Harry Parker lost both legs in an IED blast in Afghanistan in 2009.
They are set to receive a Special Recognition Award for their work at the Daily Mirror's Pride of Britain Awards 2015.
Ed says: "Simon told me how affected he'd been by seeing the increasing number of men coming home from the war with such terribly traumatic injuries.
"Simon and I wanted to attempt an expedition with wounded soldiers to raise the profile of these men and women so more people could understand what it is they are going through."
They founded Walking with the Wounded in 2010 and the following year were joined by four soldiers who had sustained life-changing injuries – including Captain Guy Disney, who lost a leg in Afghanistan and Private Jaco van Gass, who had his arm blown off by a Taliban rocket-propelled grenade – on a 200-mile unsupported trek to the North Pole.
The expedition, with Prince Harry as Patron, captured the public imagination. But it was about more than showcasing their resolve, spirit and courage.
The expeditions raise awareness of our wounded and raise funds for the charity's valuable work – helping those who suffer physically, mentally, or socially as a result of their service, and struggle to make the often difficult transition into civilian life.
They could be dealing with physical injuries or the mental scars of conflict, such as post traumatic stress disorder and depression.
Expeditions are corporately sponsored and WWTW uses funds to support education, training and new qualifications to help those leaving the forces build a successful new life outside the military.
Since that groundbreaking first trek, it has also launched an ambitious attempt to conquer Mount Everest with a team of amputees and injured soldiers.
They were just short of 7,000m when treacherous weather conditions and avalanche warnings forced them to postpone the attempt to reach the 8,848m summit.
In 2013, a WWTW team – including Prince Harry and wounded servicemen and women from Britain, the US and the Commonwealth – trekked unsupported to the South Pole, covering 208 miles over 16 days. The British team included Guy Disney, as well as fellow amputees Kate Philp, Ibrar Ali, and Duncan Slater.
And a team is currently walking 1,000 miles across Britain, finishing at Buckingham Palace on November 1.
To date, Walking with the Wounded has raised more than £10million and supported over 2,500 veterans.
It has also given men and women who risked their lives for their country something priceless – inspiration and hope.
Back to all