Swimming Ambassador for polar cruise CSR Foundation
02/09/2015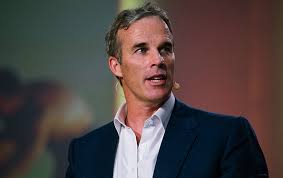 New project to raise awareness of sustainability challenges.
Hurtigruten, who aim to be world leading in sustainable explorer travel in the polar regions, have announced that they are establishing 'The Hurtigruten Foundation'.

The new project will raise awareness of opportunities and challenges in the Arctic, Antarctica and along the Norwegian coast, raising funds to respectively exploit or reduce them through a number of initiatives worldwide.

Pioneer swimmer and environmental campaigner Lewis Pugh, who is the United Nations appointed "Patron of the Oceans", has also been announced as the foundation's first ambassador.

"We want to offer travel with meaning. By having guests, staff, partners and Hurtigruten friends from around the world joining forces, we aim to ensure that future guests can have the same unique experiences in these areas as guests of today", says Hurtigruten CEO Daniel Skjeldam.

Hurtiggruten say that on-board auctions have contributed to projects in South Georgia, protection of the Albatross and maintenance of research stations in Antarctica. The company also supports other local initiatives such as 'Clean up Svalbard' and the 'Association of Greenlandic Children'.

These activities run alongside on-going environmental projects, which among other things, says the company, have resulted in Hurtigruten's annual emissions of CO2 being reduced by nearly 13,000 tonnes since 2009.

The first ambassador of the foundation, UK-born Lewis Pugh has undertaken some spectacular swims all around the world, including in the freezing cold waters of the North Pole and in Antarctica - all to create awareness about how important it is to safeguard the environment of these waters.

He has been appointed "Young Global Leader" by the World Economic Forum and his many strenuous pioneer swims have resulted in National Geographic appointing him to one of their "Adventurers of the Year".

"Dugnad' is an unique Norwegian word which means that one works together voluntarily because individuals feel it's important and for the good of the community. This is exactly what the polar regions need, a good dugnad. I feel confident that through this foundation we will create strong results and make a real difference", says Mr Pugh.

Lewis Pugh and Daniel Skjeldam together with Hurtigruten-employees and partners, marked the creation of the foundation by picking up litter on a beach outside Tromso in Norway, north of the Arctic Circle.

"Not many people realise how far plastic bottles can travel by sea. Ocean currents causes a lot of garbage that is thrown out to sea to end up in the polar regions where it threatens local communities, nature and wildlife, such as polar bears and penguins. Therefore it is important to stop littering and to clean up coasts everywhere", says Pugh.
Back to all