Sir Ranulph Fiennes runs Marathon des Sables
13/04/2015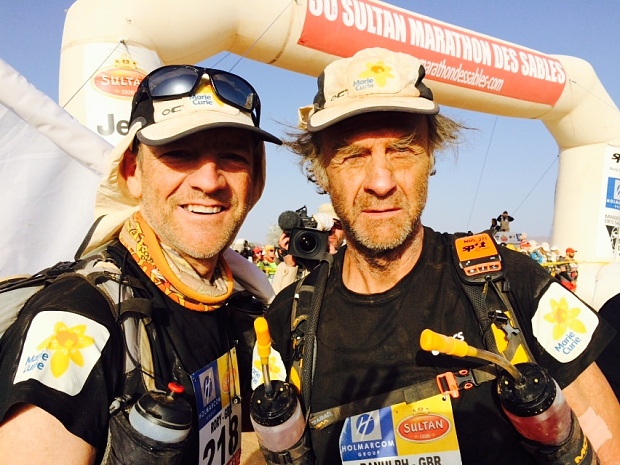 Ranulph Fiennes: Marathon des Sables was hell on Earth
Explorer completes six-day ultra-marathon in blistering heat, overcoming fears that exertion could trigger his third heart attack.
As a veteran explorer who has climbed Everest and crossed Antarctica on foot, Sir Ranulph Fiennes has never been one to grumble about the hardships of adventure.
Yesterday, however, he came close when he spoke about his trek across the Sahara in a six-day ultra-marathon known as the toughest race on Earth.
But if, in describing parts of the journey as "more hellish than hell", he appeared in danger of a stiff-upper-lip lapse, he could surely be forgiven, for Sir Ranulph, 71, had faced down fears about his health to become the oldest Briton to complete the Marathon des Sables.
The explorer, who had a double bypass 12 years ago, admitted feeling a series of "arning signs" from his heart during the trek. He also lost 10lb, despite eating regularly and drinking around three gallons of water a day.
He crossed the finish line in the Moroccan desert shortly after 7.30pm on Friday having walked 156 miles over the six days.
Speaking from the Sahara yesterday, Sir Ranulph said: "It was like walking on a treadmill in the heat. Sand kept slipping away under my feet. I kept losing my grip."
The explorer was accompanied by Rory Coleman, his trainer, who at times had to force him to rest. Sir Ranulph said: "I was getting dizzy, I had a stabbing pain in my back and it was extremely hot. There was a period when I thought, 'I'm not going to make it'."
At least 75 competitors, some a quarter of his age, had dropped out by Thursday. Two suffered broken legs, one a ruptured intestine.
The explorer took the race at a "steady speed, just above camel pace". Rachid El Morabity from Morocco won the ultra-marathon, taking the title for the third time. He completed the last stage in 3hrs 20mins; Sir Ranulph took 10 hours.
"It was so much effort because of the two heart attacks I've had," he said. "The cardiologist who cut me open told me not to exceed 115 beats per minute, otherwise I could have another one. I had to be really careful."
Sir Ranulph, who six years ago became the oldest Briton to reach the summit of Everest, carried everything he needed on his back. He ate nuts for breakfast, fruit gels for lunch, and beef jerky and custard with strawberries for dinner. The only thing he longed for was a cup of tea.
On the first stage of the race last Sunday, Sir Ranulph overtook about 100 of the 1,360 competitors. "Downhill is my speciality," he said. "Uphill, I'm like a tortoise."
By the third day, however, his heart told him he needed to rest. "I felt the old rhythm warning note on the soft sandy bits and the incline," he said. "You then get slightly dizzy. That's the time to slow down." He also developed pains down his left leg.
On the longest stage of the event on day four, when competitors walk 56 miles in 30 hours, Sir Ranulph and Mr Coleman strode through the night and had just one hour's sleep, amid 40mph winds.
It was on Thursday that Sir Ranulph had his moments ofhell, and was forced to lie down intermittently because of the sweltering temperatures, in order to reduce his heart rate.
The oldest competitor in the 30-year history of the Marathon des Sables is 83 and French, but Sir Ranulph is not planning an attempt on this record. He said: "I will only do one thing once, but if I fail, I will do it again."
For now, he is simply looking forward to seeing his wife and family.
Sir Ranulph has raised nearly £1m for the cancer charity Marie Curie. To donate to his challenge visit www.justgiving.com/ranulph or test RUN to 70007 to doante £5 plus a message of support to Sir Ranulph.
Back to all