Inspirational Military Speaker, Sean Rose,Paralympic skier from St Neots working for Channel 4 in Sochi, covers opening ceremony.
13/03/2014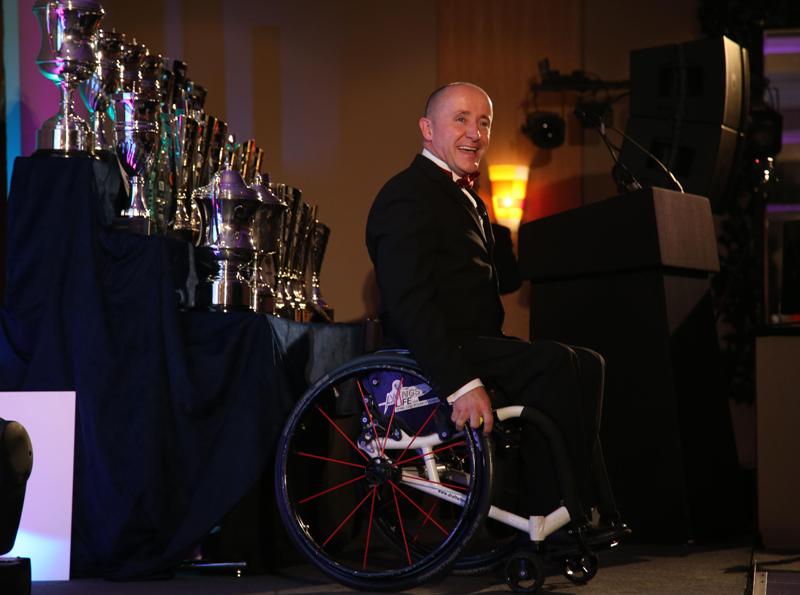 Sean Rose, who is also a Team GB ambassador at the games celebrates with the families of gold-medal-winning duo Kelly Gallagher and her guide Charlotte Evans


A paralympian from St Neots has flown to Russia to work for Channel 4 during the Sochi games.
Sean Rose, 42, who broke his back in a skiing accident, competed for Team GB in skiing events at the paralympics in Turin and Vancouver.
But this time he'll be sitting halfway up the mountain in a TV studio watching other people hurtle down it.
He said: "It's going to be a bit weird, I'm sure I'm going to be sitting there and wishing I was on the other side of the fence thinking 'oh my god this is a crazy course'.
"In winter sports you never know what's going to happen. Throwing yourself down a downhill course at 80mph on one ski with no use of your legs...There's no bigger thrill in the world.
"And you get to the bottom and think that was ridiculous I couldn't do that again. Then a few minutes later you're back at the top and raring to go. But you don't ski it...You survive it."
He may not be in the thick of the action anymore, but his experience should make the switch to TV much easier. Sean said: "When I get talking about things that I love and that I'm passionate about it just flows. It's natural.
"I was on the GB team for a long time and they're friends of mine and I've got stories to tell about a lot of them. But there's new kids on the block so I've got to learn all about them. It's an exciting combination."
And his knowledge of what it takes gives him great respect for the athletes, who can see four years work undone in seconds.
He said: "I miss it but I also know how much work has to go into that one minute.
"You hope it goes perfectly but if it doesn't go right you have to say is it worth it?"
Sean is adamant that while he was competing it was, and hopes this years athletes get the same satisfaction.
Already he has seen a gold, silver and bronze medal for British althletes, with skier Kelly Gallagher and her guide Charlotte Evans taking gold in the visually impaired Super-G, the first ever gold at the winter games.
After the games he will compete in incredible '4 people 6 legs' expedition.
With Rob Brown, Kieron Jansch and Mike Dann, Sean will attempt to snow-kite across Vatnajökull in Iceland, Europe's largest icecap.
For more information visit the website at 4people6legs.com.


Read more:  http://www.cambridge-news.co.uk/Huntingdon-St-Ives-St-Neots/Sean-Rose-paralympic-skier-from-St-Neots-working-for-Channel-4-in-Sochi-covers-opening-ceremony-then-celebrates-with-families-of-gold-medal-winners-Kelly-Gallagher-and-Charlotte-Evans-20140310114748.htm#ixzz2vpVvcZzE
Back to all